PRO + the chemical division of progressus
Who we are
"Everybody's talking  about Green Chemistry, We're doing it"
We are a young and dynamic company. We think and work tenaciously   to reach our goals.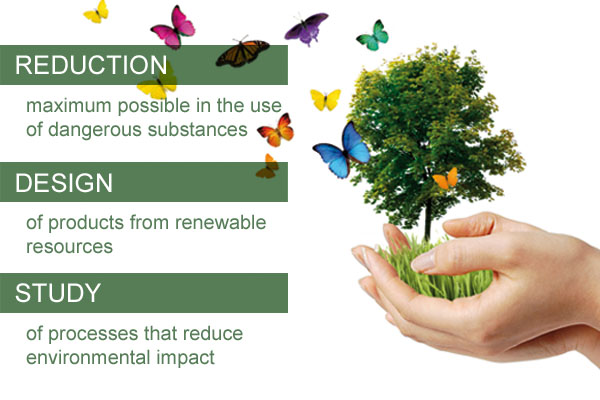 We are particularly  sensitive to giving preference to choices that do not entail problems of deforestation and climate imbalance, we do not use solvents and catalysts that are harmful to the environment.
We enjoy researching and experimenting in order to obtain innovative raw materials, to find original solutions and to promote methods of unpublished communication.
We work on a national and international level with professionals from various sectors, responding promptly to market and consumer needs.
We are attentive and curious to find out about everything around us, because it is  the observation of today's reality that inspires the design and creation of tomorrow.
What we do
Green Chemistry
It means chemistry for the environment; a technological approach that applies innovative principles to the design of chemical / biochemical processes and that promotes the use of safe chemical substances, created using processes that do not generate substances that may harm the environment or human health. It is a new philosophy which helps chemists in their research, in the production and development of  eco-friendly processes or products which reduce the impact on the environment.
Organic Chemistry
The system that guarantees the quality of our products through the rigorous control of the supply chain. Everything is done openly because everything "hides" in ideal conditions which guarantee the maintenance of the properties of functional substances present in raw source materials.
The AIAB (Italian Association for Organic Agriculture), together with the ICEA (Ethical and Environmental Certification Institute) and a group of producers, among which Progressus, with the brand "BioEco Comesi AIAB", certifies a cosmetic product based on low environmental impact and guarantees effectiveness and safety for consumer health.
Our Departments
RESEARCH AND DEVELOPMENT
- Study and creation of new raw materials
- Research on new active principles and the organization of functional complexes.
- Application studies on new raw materials and active principles.
- Tailor-made projects.
PRODUCT FORMULATION AND DEVELOPMENT
- Formulation of products for skin care, hair care, toiletries, make-up.
- Carrying out of stability tests.
COMMUNICATION AND SCIENTIFIC MARKETING
- Preparation of brochures and graphic presentations.
- Training of technical operators and sales engineers
- Image and integrated communication plans.